AppSCREEN® XXL Tablet, the original.
succeed with the AppSCREEN®
Die Zukunft des Display Advertising liegt in der App. Als Full-Service-Dienstleister bieten wir
mit dem XXL Tablet ein plug & play Konzept aus Technik und Design und sorgen für einen wirkungsvollen
Auftritt Ihrer Inhalte.
Effective communication
The AppSCREEN® XXL Tablet is a true EYE-CATCHER. Since body and mind are connected, the information to be conveyed is grasped in a playful way and positively linked. The gamification-effect works implicitly and is reinforced by the display size of 46 inches and a 1.94 m large size.
Your company app
Present your Android app effectively with a tablet on a 46-inch rotatable and interactive display. 
Image films & videos
The rotation mount and auto-rotation allow viewing in both portrait and landscape mode. This allows you to show your videos and image films full-screen (16:9) on the tablet. The sound is playable via 2 x 5 watt speakers or via an external Bluetooth speaker. 
Documents & Presentations
As with a normal tablet, you can use all file formats interactively with a corresponding app. Present your PowerPoint presentations, PDF's, Office documents, images 1:1. 
Easy set-up and dismantling
Setting up and dismantling the AppSCREEN® XXL Tablet at the event location is as easy as can be. It takes no longer than three minutes.
Plug & play
the AppSCREEN® can be delivered to your event on request ready to use. Before delivery, we will equip the tablet with your content and your logo.
A kiosk sytem secures the XXL tablet against unauthorized access to the settings. This means that only the content that the user is supposed to use is available.
Set the AppSCREEN® properly in scene.
We are happy to design sales concepts around your content.
AppSCREEN® is a  real tablet with 46 inch display size.
No system in system and no emulator either.
Plug & play – plug in and get started.
You have full access to the Google PlayStore and can access nearly 2,5 million apps .
USB port for convenient importing of your data.
HDMI-out, so you can mirror the AppSCREEN® to another output device (display/beamer etc.).
We always work with current versions of Android OS.
If you need Windows or Mac OS then you can simply change the operating system with a switch without any additional hardware.
The tablet display of the AppSCREEN® can be rotated by 90°. You can use it in portrait or landscape mode.
| | |
| --- | --- |
| Operating systems: | Android 10 & 11, optional Windows / Mac OS |
| Display: | FullHD 1080x1920px, brightness 700 nits // rotatable by 90° |
| Processor: | RK3399 Dual-core 1,8GHz / Quad-core 1,5GHz |
| Working memory: | 4GB DDR-RAM |
| Memory: | 128GB eeC |
| WLAN: | 2,4GHz & 5GHz, Bluetooth V5.0 |
| Ethernet / LAN: | 10/100/1000MBit |
| Audio | |
| | USB-in, HDMI-out (Mirror screen), Audio-line-out |
| Camera: | 2 Megapixel, 3,6mm Lens |
| | |
| --- | --- |
| Tablet height portrait: | 194 cm |
| Tablet height landscape: | |
| Display size: | 46 inches, 66 cm x 119 cm |
| Bottom plate: | 66 cm x 56 cm |
| Electricity consumption: | 100-110 Watt; normal power plug |
| Power cabel: | 0,5 m |
| Weight: | approx. 110 kg |
| Roll-case: | 210 cm x 70 cm x 70 cm; incl. screen approx. weight 210 kg |

XXL tablet – case studies
Die Einsatzbereiche eines großen interaktiven Tablet sind vielfältig. Wir haben in einigen Case Studies Bereiche, wie z.B.
Messe, Event, Retail, Öffentliche Bereiche, Smart Cities etwas näher beleuchtet.
Large-format presentations In today's digital world, interactive large screens are essential for attracting attention and conveying...
Set-up and & dismantling video
The set-up or dismantling of the AppSCREEN® XXL Tablet System takes only a few minutes.
With AppSCREEN® – maximum flexibility
Ob Event und Messe oder als Infoamtionssystem in Retail, Gastro, Hotelerie,
an öffentlichen Orten oder in Smart Cities. Mit Android und Apps haben Sie flexibel Zugriff auf weit über
2,5 Mio. Apps.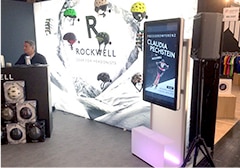 Giant Tablet / XXL Tablet
Infoterminal / Infoscreen
Self Service Solution / Kiosk System
Giant Tablet / XXL Tablet
Infoterminal / Infoscreen
Self Service Solution / Kiosk System